Mona & Raj Bhogal are delighted to announce their forthcoming event, The OKA Summer Garden Party 2019
Post Event Update

12th August 2019
One Kind Act's annual garden party, the most sought after, popular event in the calendar was yet again a sold-out affair. On a pleasantly warm August afternoon, over a hundred guests gathered on the lush, mature lawns of Raj and Mona Bhogal's country manor.
The bar was busy with Prosecco and Pimms, wine and beer flowing until the late hours. Lavish starters, a banquet for main meal and home-made desserts were served while music played, conversation flowed and a gentle breeze blew.
Live singers performed soul, jazz, blues, and Latino music to the audience who either sipped their drinks while swaying to the music or hit the dance floor while singing along enthusiastically.
Trustee Annu Shah gave a well-received speech on the work of One Kind Act. Raj Bhogal spoke movingly about raising money in memory of his brother Belu who, in his lifetime, always reached out to help wherever he could.
Over £20,000 was raised and two noble causes were supported on the day:
Compassionate Hands - which takes care of over 90 disabled, abandoned babies and children in Kenya
Made with Hope - which aims to install water tanks to collect clean rainwater to schools in Tanzania
An auction and raffle raised further funds in a more traditional way compared to an impromptu generously sponsored jump in the pool by OKA chairman Shamit at midnight! We just hope he hasn't caught a chill!
Event Details

OKA GARDEN PARTY
One Kind Act is delighted to announce the 2019 Garden Party on Saturday 3 August.

As regular attendees will testify, this is one of the most sought after, requested and popular events held by OKA. It is an afternoon of sunshine, music, unlimited drinks, cocktails and food on the luxurious, verdant lawns of One Kind Act associate, Mona's country house. Games, stalls, a swimming pool, auction and raffle add to the relaxed fun of the day.

Tickets are £45 (over 16s only)

Arrival between 2pm and 4pm
As always, numbers are limited and tickets sell fast…. so book yours soon.
If you cannot attend but would like to donate, please PLEDGE ONLY on this page.
PREVIEW:
ONE OF OUR AUCTION PRIZES - A FRAMED SIGNED FLAG WITH ROLEX CLOCK BY RORY MCLLROY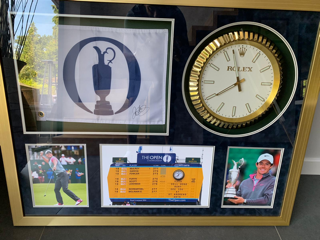 About One Kind Act

One Kind Act Changes Communities and lives of others globally who suffer as a result of Poverty of Health, Nutrition and Education and may have Fallen Through The Net of the larger charities. Learn More here